People fail to get along because they fear each other.  They fear each other because they don't know each other. They don't know each other because they have not effectively communicated with each other.
— Martin Luther King, Jr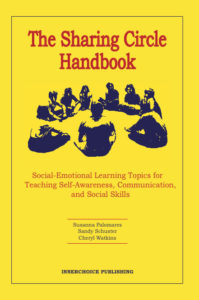 Effective communication is critical to social interaction and, via both process and content, this Sharing Circle activity helps develop the two main components of communication: expression and listening.
While it seems only natural that humans should equitably exchange their thoughts and feelings, many have not acquired the skills necessary to communicate with the understanding and empathy needed to bind relationships.  One of the major reasons we experience problems in communication is that we forget that individual experiences are never identical.  Yet, when we develop a closer understanding of what others experience, we find more agreement than disagreement.  In this Sharing Circle students have an opportunity to examine the importance of good listening.
Here's a Sharing Circle That Focuses on Communicating Effectively
This Sharing Circle topic comes from The Sharing Circle  Handbook (Grades K-12). The topic is, I Told Someone How I Was Feeling.
  Here's Your Monday Morning Sharing Circle. Enjoy!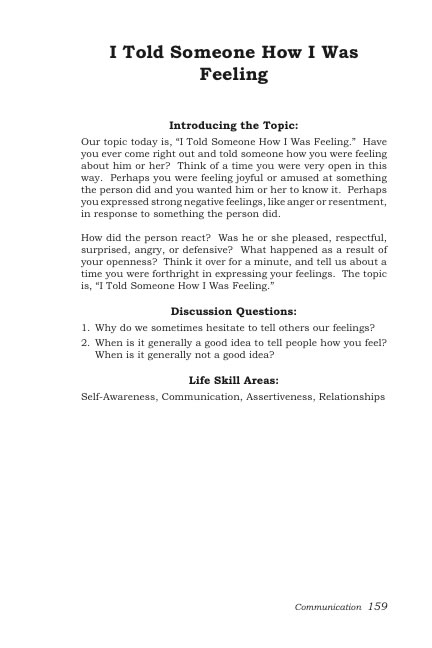 Do you want more information? • Leading a Sharing Circle • Sharing Circle Rules • Books and Resources   • Free Activities   • Subscribe
Here's How It's Done
Gather everyone into a circle. Explain the rules for sharing, and get agreement from everyone that they will follow the rules.
Sharing Circle Rules:
Everyone gets a turn to share, including the leader.
You can skip your turn if you wish.
Listen to the person who is sharing.
There are no interruptions, probing, put-downs, or gossip.
Share the time equally.
After everyone has shared, who wants to share, ask the discussion questions. Get more in-depth information here.
If you like our blog resources and would like to receive them regularly, please subscribe above or on our website at www.InnerchoicePublishing.com
If you are already a subscriber, I hope you find this activity valuable. Help us grow our blog by sharing these activities and encouraging others to join.
Thank you. Thanks so much for reading!
Susanna